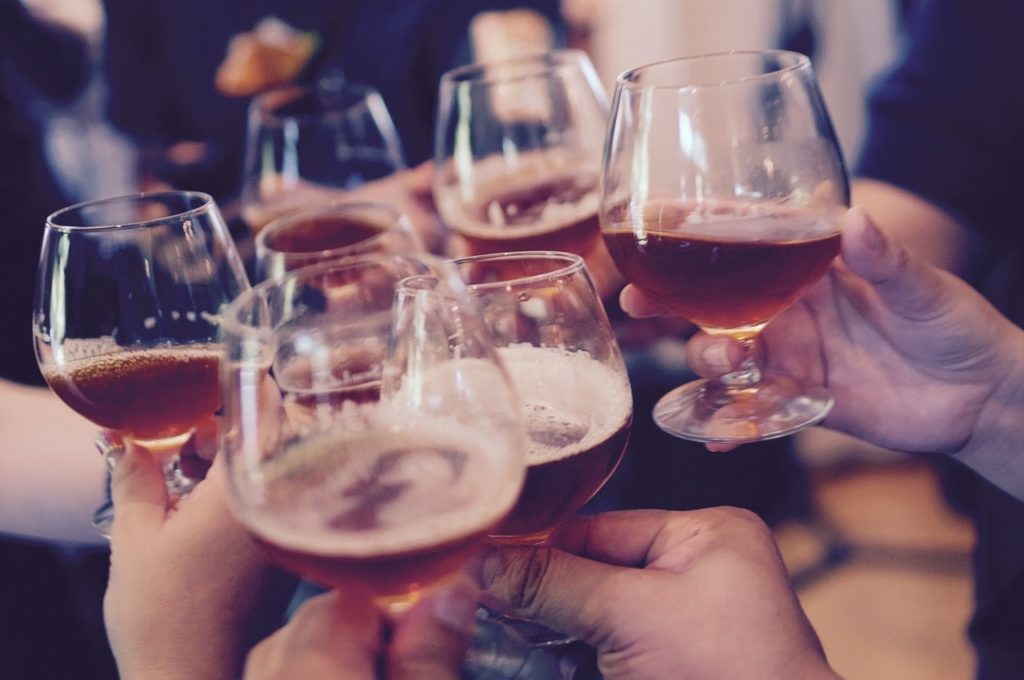 So long, charity galas and silent auctions. Today's generation of charitable givers is looking for new ways to give back to their community, and not any old ho-hum event will do. When you want to raise money for a cause, partner with a local bar for an event that lets you do good while having fun.
Coordinate a Beer Fun Run
Millennials are all about staying active and supporting their communities, making a charity fun run the perfect fundraising event. Beer fun runs take the traditional charity 5K, relax the pace, and add in an afterparty to create an exciting event that you don't have to be super-fit to enjoy.
For a successful charity fun run, pick an ending location where people can wind down with some drinks, live music, and food trucks. Local bars are the perfect choice because you don't have to worry about getting a permit to sell alcohol, and many bars already have a sound system for bands to use. To raise the most cash, charge a registration fee, sell t-shirts, ask the bar to donate a portion of its sales, and solicit donations from local businesses to be raffled off during the post-race party.
Host a Charity Trivia Night
Pub trivia has exploded in popularity, and it can be a great vehicle to raise money for a cause. Many bars see sales increases of 30 to 65 percent on an average trivia night, so you have great leverage to ask a bar owner to donate a portion of trivia night profits to charity.
Regular trivia nights offer prizes for the winning team, usually in the form of gift cards or discounted bar tabs. For a charity trivia night, turn the prize into a donation in the winning team's name, and ask for an entry donation from each team.
Organize a Craft Beer Fest
Craft beer festivals are a great way for local breweries to network, test new brews, and gain valuable exposure. And, it turns out, they can be an awesome vehicle to raise money for a cause.
While organizing a charity beer festival may require more legwork than other fundraising ideas, the payoff can be well worth it. Many beer festivals charge entry fees upwards of $40 per person and attract hundreds of people. When combined with vendor fees, you have the potential to raise major dollars — especially if you can cop a free or discounted location. Plus, you can sell souvenir glasses and t-shirts and raffle off growlers to raise even more money.
Start a Charity Happy Hour
Many bars offer happy hour specials to drive traffic during their slow hours, but what if you could partner with local bars to draw in crowds and raise money for good?
If you're looking to support a charity that needs in-kind donations, ask a local bar to offer $1 off a drink for every canned good, bag of pet food, coat, or other item donated. If it's cash you need, give patrons the option of paying full-price for their drinks, with the difference going to charity. You could even host a cornhole, darts, or giant Jenga competition to let people blow off post-work steam while raising money from admission fees. Once you've established that you can draw crowds, ask about making it a monthly event with a portion of all happy hour sales donated to your cause.
Today, people want more than to give back. They want to be involved, have fun, and meet other like-minded individuals. That's why partnering with local bars and breweries is the perfect way to fundraise for the charity that's near to your heart. When you work with local businesses, you can raise money while reaching new crowds and developing community relationships that will serve your cause for years to come.
Image via Pixabay by Unsplash